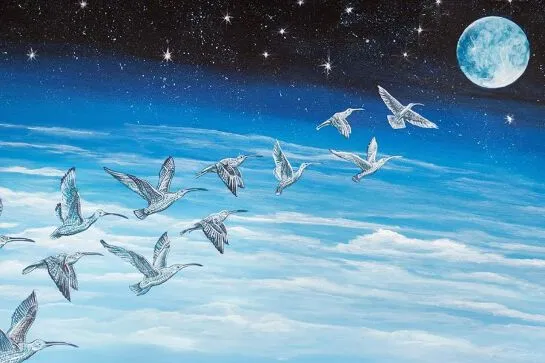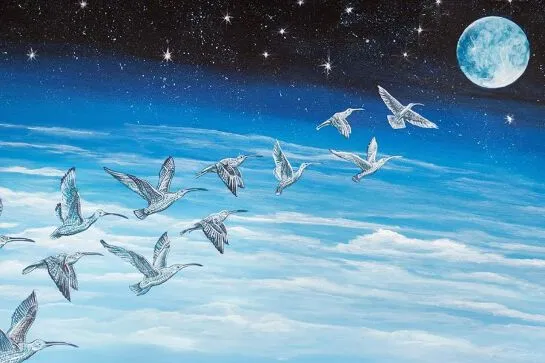 Shorebirds - What is their Future? is an exhibition of paintings by Merrett Keech on the plight of migratory shorebirds. 
Merrett believes that the wetland areas of our coastline are nature's bridge between the sea and the land.  A bridge that provides life, sustainability, regeneration and protection of both wildlife and land.  She also believes that it is up to everyone to maintain, protect and aid our coastal wetlands and estuaries for future generations to come.  Merrett's artworks look specifically at the Far Eastern Curlew and the impact of development affecting wetlands all around Australia. 
To accompany the exhibition is an informative display on migratory shorebirds that  every year spend the summer months on the Sunshine Coast.  Drop in style, family friendly activities will be available. Free entry.
Join us for the opening event on Saturday 14 January at 10am which includes an informative shorebird presentation, and an artist talk by Merreet Keech, face painting and children's activities.
Image credit: Merrett Keech, To the Moon and Back.
Other Dates & Times
Sun 15th Jan 2023, 10:00 AM - 2:00 PM
Mon 16th Jan 2023, 10:00 AM - 2:00 PM
Tue 17th Jan 2023, 10:00 AM - 2:00 PM
Wed 18th Jan 2023, 10:00 AM - 2:00 PM
Thu 19th Jan 2023, 10:00 AM - 2:00 PM
Fri 20th Jan 2023, 10:00 AM - 2:00 PM
Sat 21st Jan 2023, 10:00 AM - 2:00 PM
Sun 22nd Jan 2023, 10:00 AM - 2:00 PM
Mon 23rd Jan 2023, 10:00 AM - 2:00 PM
Tue 24th Jan 2023, 10:00 AM - 2:00 PM
Wed 25th Jan 2023, 10:00 AM - 2:00 PM